---
• 2013 Genesis Firecracker Run Results - available July 4th, 2013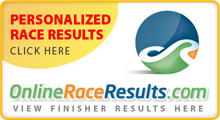 • For 2012 Genesis Firecracker Run Results - click here
• For 2011 Genesis Firecracker Run Results - click here
• For 2010 Genesis Firecracker Run Results - click here


---
Pancake Breakfast
7:30 A.M. - 11:00 A.M. – Thursday, July 4th, 2013




• Sponsored by the East Moline Fire Fighters Association
• Benefiting MDA (Muscular Dystrophy Association)
• Location:
• American Legion, Post 227-829, 16th Avenue, East Moline
• (1/2 block from start/finish line) Adults $5, Children (12u) $3
---
10K 2-Person Relay
7:30 A.M. - Thursday, July 4th, 2013
• Enjoy the team effort of completing the 10K course by splitting it up with your partner. (Limit of 100 teams).
• 6 Divisions:
3: Open Male, Open Female, Open Mixed
3: Masters Male, Masters Female, Masters Mixed.
• Bus transportation to/from transition area is provided.
---
5K/10K RACES - course map (pdf file)
7:30 A.M. - Thursday, July 4th, 2013
• Start and finish lines are downtown East Moline (8th Street & 15th Avenue).
• Musical entertainment provided along the course.
• Electronic Tag-Timing by The End Result Company for precise and accurate results
• www.TheEndResultCo.com
• NEW, 10K Course to have a split-time location at halfway
• Technical short sleeve tees to all participants-male and female sizes.
Size guaranteed if registered by June 15, 2013.
• On site printout of individual race results.
• Trophies to top (3) three places in each (5) five year age division.
• Clydesdale (males, 210 lbs+) and Athena (females, 165 lbs+) divisions in both 5K and 10K. Not eligible for age group awards.
• The 5K is flat and fast, while the 10K is hilly and challenging.
• "Fastest East Moliner" awards for first male and female.
• Guns 'N' Hoses 5K Challenge - see below
• Costume Contest - Awards for best patriotic costumes.
---
KIDDIE RUN
8:45 A.M. – Thursday, July 4th, 2013
• Kids ages 8 and under are encourage to participate.
• All participants receive a finishers ribbon.
• This is a fun run, not timed, clock will be displayed.
• Out-N-Back Course.
---
THE NATIONAL BANK MILE
9:15 A.M. – Thursday, July 4th, 2013
• Presented by THE National Bank.
• 1st, 2nd and 3rd place trophies to males and females in each
• age division: 8, 9, 10, 11, & 12.
• Out-N-Back Course.
• This event is chip-timed, clock will be displayed also.
---
2013 Awards Ceremony
9:30 A.M. – Thursday, July 4th, 2013
• Awards given in the following order 5K, 1 mile, 10K, 10K relay.
---
An Elvi Favorite!
Hospital Bed Races
10:00 A.M. – Thursday, July 4th, 2013
• For an application - click here
• For more information call: (309) 751-9800 or e-mail the Race Director - click here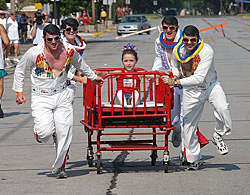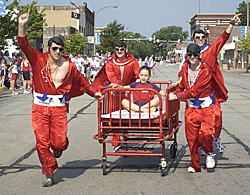 Photos: Courtesy of The Dispatch & The Rock Island Argus.
---

Guns 'N' Hoses 5K Challenge
• Download a pdf flyer of the event details - click here
• Teams comprised of current or retired members of QC area police and fire departments.
• Teams must have a 4 person minimum, police, fire, or combination.
• Times for each team will be combined by using the 4 fastest team finishers'
• average times.
• Winning team will receive the traveling trophy to display at their dept/city hall.
• Each team member must submit an individual entry and specify which team (department) they represent.